I bought my house 18 months ago. I've not done much to the indoor decor beyond painting two rooms and pushing around furniture. Most of the work has been outside in the yard.
One of the first things I did after I moved in was rip out what my sister-in-law calls "snake bushes." They're these low slung evergreen bushes that were a prominent part of the yard when I bought the house. Grass has been a challenge to grow in the front yard – the soil is very sandy, and there's a big oak tree that shades half of the yard. I like the shade of the oak tree, but grass likes sunlight. I did compare a picture taken last year to one taken now, and the grass does look much improved, though. I've tried using the Scott's Turf Builder EZ Seed, but the oak tree shade isn't a friend to the bermuda grass, it seems.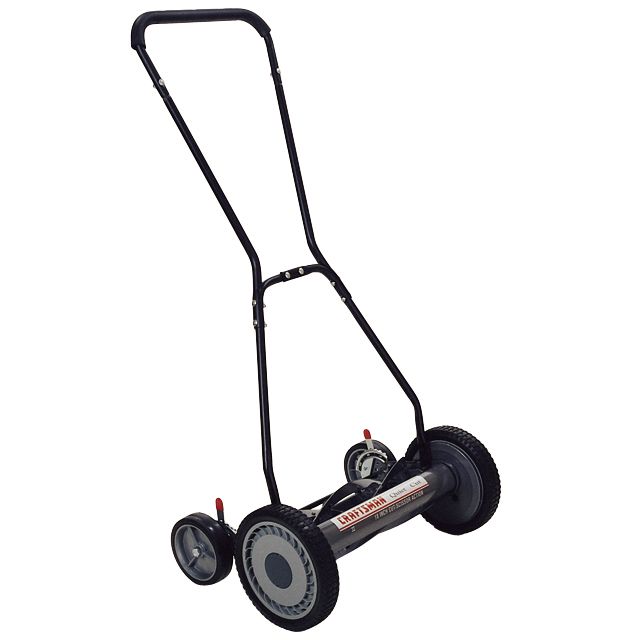 I'm pretty old school when it comes to taking care of the yard. I use a push reel mower from Craftsman. It was one of my first purchases for the new home – I bought it on sale at Sears for less than $100. I like it a lot. It's not perfect – it takes more work to get the yard mowed than it would with a gas powered mower, but that's not necessarily a bad thing – it's a bit of a workout. But the best thing is that it's quiet. I wake up fairly early, even on weekends, so it's nice that I can get up and mow the lawn when it's still cool in the morning, even in the Florida summers, without bothering neighbors. I don't really care that I might have to go over thick spots twice.
In that same trip to Sears, I also got a pressure washer on clearance. Obviously, it's something that gets used way less than a mower, but it was a good purchase. It's come in handy.
One of the next purchases I made was this Ryobi cordless weed eater / blower combo pack. I got it at Home Depot on sale for under $100, too. The weed eater is awesome for getting all the edges that the mower can't get to around the planters and the side of the house. The battery it came with is long lasting and holds it's charge. The blower isn't very strong, but it blows debris off the driveway after mowing and raking, which is all I really need it for. It wouldn't be strong enough to blow all the oak leaves off my lawn in the fall, but if it was, it'd probably take all my weak topsoil with it, too.
My biggest yard problem (other than getting grass to grow) has been ants. I've posted about my ant problem before here and here. The homemade ant bait worked okay when the ant population was light, but they became a bigger problem. I have some fairly large ligustrum plants, and the first year in the house, they didn't cause too much trouble. But this year, they became infested with aphids. And what eats aphids? Ants. So because of all the aphids, I had ants all over the place. The ants didn't live in the ligustrum, they live in nests other places and use the ligustrum like a McDonald's drive thru. The busiest McDonald's drive thru ever. Some of the ants would dig nests in the ground. Some were living under this wood retaining wall in the back yard. And many like to crawl into the eaves of my house, and maybe into the attic.  Whatever I tried to do to get rid of them, they'd go away for a while, and then I'd find them somewhere else. But I've been winning the war on ants recently. First, I cut back some of the ligustrum – especially those with the worst aphid problems.
And then I got some Ortho Bug B Gon Max. This kind, you hook up to the garden hose to spray on the bushes and grass. It took me two applications about a month apart, and then there were no more aphids and no more ants in the ligustrum. They're not totally gone, but they're not the problem they were.
For the upkeep when I find ants invading, I have started using Raid Max Bug Barrier. It's a different kind of product – more of a kill on contact type of thing, but also a barrier, as the name implies, though I'm not super confident in how effective it is as a barrier yet, especially with all the rain we've been getting lately.
So those are my yard basics. I've done some other things like tree trimming, too, but those are a once every year or two type of thing.
My next big yard project is to work on the aforementioned wood retaining wall. The easiest thing might be to get some pressure treated landscape timbers and rebuild the wall as it is. But it's not my favorite look. I'd love to replace the whole thing with a rock wall instead of wood. And I still worry about the grass. I haven't gotten a violation letter / notice from the HOA, though, so I haven't pulled the trigger on getting a pallet of the shade and drought tolerant St. Augustine that the yard needs.
What are your favorite yard purchases? And what are the challenges that keep you busy with yard care outside?